Trade Talks is a lively and popular podcast about the economics of trade and policy. In each episode, host Chad P. Bown (Peterson Institute for International Economics) explores trade-related topics from the US-China trade war to COVID-19 vaccines to disputes over steel tariffs. The podcast delves into the history of trade among different countries, intellectual property theft, and what's behind the latest news with top experts from around the world.
Soumaya Keynes (The Economist) and Bown launched Trade Talks on September 1, 2017 and co-hosted 158 episodes together through late 2021. Podcast episodes include conversations with practitioners, policymakers, scholars, consumer representatives, business and labor groups, and journalists. While Keynes has since moved on to even more amazing professional pursuits, Bown continues to bring a conversational, accessible, and probing tone to cutting edge issues and the long and often exotic history of trade disputes. For anyone who cares about trade and its impact on our life and times, Trade Talks is a must-listen experience.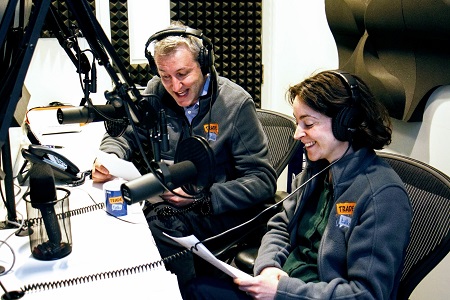 Fun Facts
Trade Talks was launched a full 5 months and 6 days before President Trump's first tariffs even went into effect.
Tim Harford of the Financial Times named Trade Talks one of the "best economics podcasts in 2018."
On June 14, 2018, Trade Talks helped PBS News Hour explain the economics behind President Trump's tariffs on washing machines. This was originally covered in Episode 20.
About your Trade Talks co-host